Hey Reader!
David Kessler here.
Game design takes work. A lot of work. And a lot of the lot-of-work is not of the particularly fun or interesting variety. Some might call it tedious. Others might say repetitive. Still others might say they can't think of a good word for it because their brains are so full of game thoughts that they can't think of good words anymore.
And yet, there are some moments during a design when your brain makes magic happen: when you come up with something so clever, that all you can do for a moment is bask in the wonder of your own creation. Oftentimes, these moments are inspired by other folks–in a playtest, or an offhand comment. And that's what makes game design such a unique form of art. We game designers require other people to bring out our best selves.
14 Frantic Minutes
Joe Slack is back in the news(letter) with a brand new game! He and Sylvain Plante have brought 14 Frantic Minutes to life.
The game successfully funded on Kickstarter in November 2022, but you still have a chance to get a copy through the pledge manager, which will be closing on March 31st.
14 Frantic Minutes is a real-time puzzle-y game that you can play solo or cooperatively with up to 4 players. Work together to complete circuits and escape, or be captured forever! There is also a downloadable soundtrack to contribute to your tense gaming atmosphere.
A number of playtesters and designers played a version of the game at Protospiel Online back in October 2021. If you were one of those playtesters, you might recognize the game under its previous title, Flight from Dr. Demented's Lab. Here's a look at the prototype: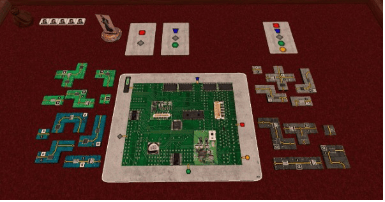 Joe Slack is one of the moderators for Protospiel Online. You can often find him helping to get you players for your game or getting you situated to playtest other folks' games. He is always bringing new games to test, as well as playing other folks' games and offering valuable feedback. It is exciting to see one of the games he has brought to the event make it to this stage.
​
In-person Protospiels are happening!
​Protospiel Indy and Protospiel Michigan have announced ticket sales! For some good old-fashioned analog fun, these in-person Protospiel events are coming up in May and July, respectively. Hopefully you'll find playtesters to inspire some moments of brilliance, if you are able to attend!
Event organizers encourage you to come regardless of the appearance of your prototype. Some prototypes will be polished, but others will be thrown together from the free materials at the events themselves! All are welcome to receive help improving their games, and to help others to improve theirs. No game is too unfinished for Protospiel.
📣Happy Belated International Women's Day!
Did you know that Monopoly (yes, that Monopoly) was originally designed by a woman? In 1904, Elizabeth Magie patented The Landlord's Game as a protest against big monopolists of her time. It was later published by Parker Brothers with designer credits given to a man. Read all about it here.​
You may have heard of these other games invented by women too: Candyland, by Eleanor Abbot, and Jenga, by Leslie Scott.
​
Moreover, the first editor for the Times crossword puzzle was a woman by the name of Margaret Farrar. She was integral to launching the puzzle craze back in the 1920's.

We encourage you to make some time to play more games created by women this month (next month is ok too) -- maybe an old favorite or something new. Here are some recommendations for online play options from our very own Protospiel Online Lead Organizer, Heather Newton: Abandon All Artichokes (Emma Larkins), Twin Palms (Kristi B), Coupell (Bez Shahriari), Heckin Hounds (Mattie Schraeder), Gift of Tulips (Sara Perry), and of course, Wingspan (Elizabeth Hargrave) are all available to play remotely on Board Game Arena. Library Labyrinth (Jessica Metheringham and Mill Goble), Persuasion (Xoe Allred), and Cacti (Amelie Le-Roche) are available to play for free on Screentop.gg
That's it for now. Stay tuned for more awesome events, community opportunities, and updates about games tested at Protospiel!
~David
​
P.S. If you have something you'd like to see featured in our Community Newsletter, you have 3 options -- either submit an official feature request, reply to this message, or post in the #🙌share-your-wins channel in the Protospiel Online Discord server to let us know the details. We'd love to celebrate you!
​