Hey Reader!
Emily Vincent here.
For most of us who've designed a game, the allure of self-publishing is always there. There are many reasons and many ways to self-publish a game, but a lot of us think immediately about platforms like Kickstarter and Gamefound. Finding success on these platforms takes a lot of work though, which might not be the best fit for every game and every designer. Luckily, there are always folks who are experimenting with other ways to get their games into the world. I'm excited to share one of those folks today.
Capital Campaign by James Peters
Protospiel Community member James Peters has recently launched his first game, Capital Campaign, on The Game Crafter's Crowd Sales platform. Capital Campaign is a highly thematic euro game in which the players gather and manage resources to enable their non-profit organization to achieve the most good while leveraging the deep, rich world of philanthropy. James leaned on his background in non-profit marketing to design this game, coming up with the core concepts in 30 minutes on an afternoon walk.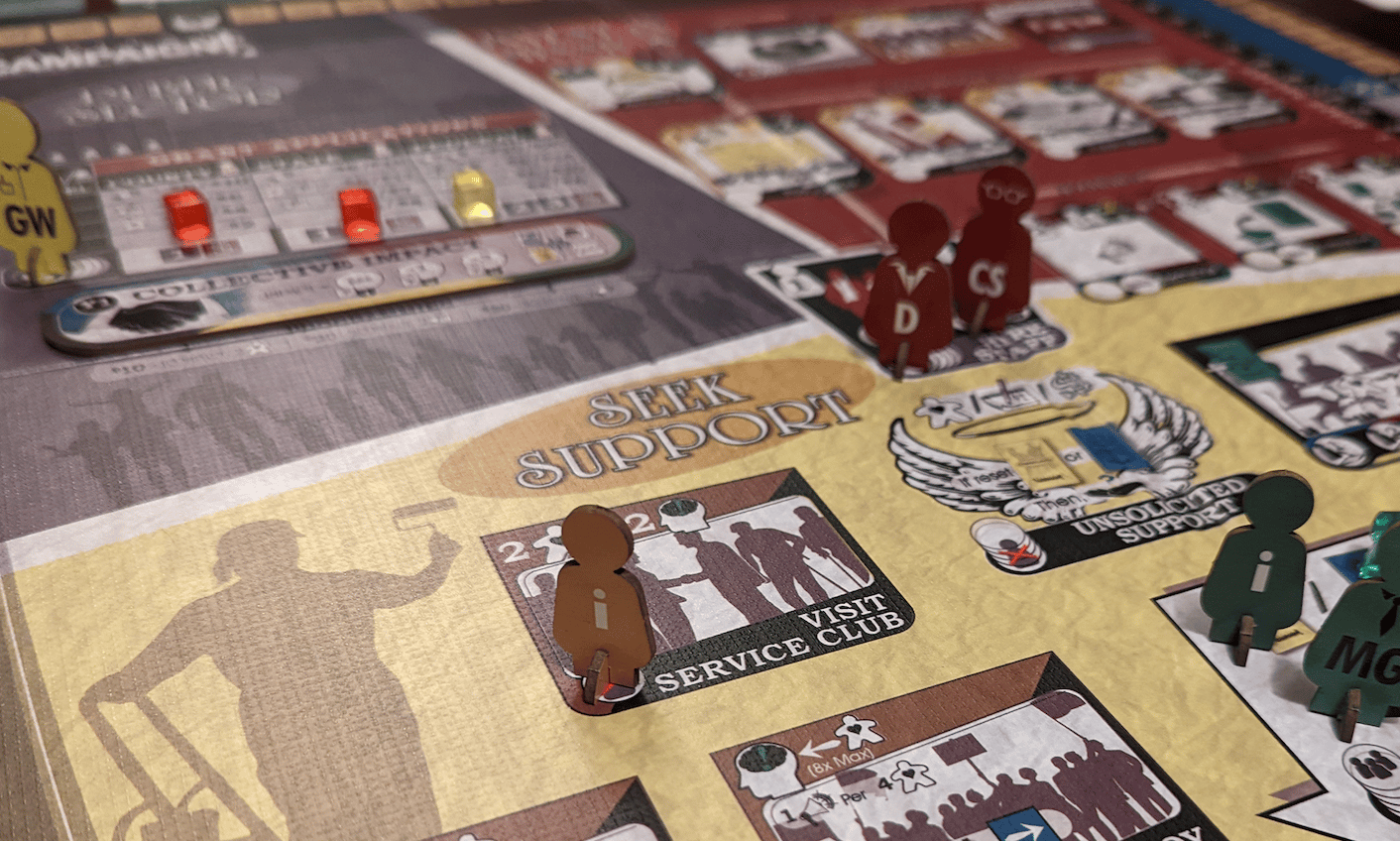 I sat down with James to chat with him about how he decided to go with a Crowd Sale as his path to publication. James shared that his original plan for this game was a Kickstarter campaign. However, one of the Crafter Con presentations before Protospiel Madison convinced him that crowdfunding might not be the right fit for Capital Campaign. James works full time and wasn't sure he would be able to devote the time required to succeed at traditional crowdfunding. Luckily, JT Smith of the Game Crafter introduced him to Crowd Sales.
Crowd Sales is a different type of crowdfunding hosted by The Game Crafter. During a Crowd Sale, the number of buyers leads to discounts for rather than stretch goals by unlocking bulk printing discounts. The more buyers during a Crowd Sale, the higher the discount every buyer receives. In addition, a Crowd Sale comes with the speed and decreased risk of The Game Crafter's print-on-demand model. Buyers get their games in a matter of weeks, the designer does not carry the risk of printing too many and having to eat those costs, and the buyers don't have to worry about not getting the game.
This seemed like a great fit to James. It was cost effective, as he was able to complete the digital products for this game with only a little bit of investment by leveraging stock imagery, stock icons, and his own graphic design knowledge. His goal with Crowd Sales is to get the game out there, making it available for fans as he grows his network through playtesting and marketing. He gets a lot of buzz when he brings this game to design events, including making Jamie Stegmaier's top 10 list from the 2021 Stonemaier Design Day. He's hoping that this buzz might help him get a slow burn of sales for this game, which will give him some useful industry experience and position him well for his next game. While his Crowd Sale is over, you can still purchase Capital Campaign at The Game Crafter.
​
Protospiel Online May 2023 is a Wrap!
Thanks to everyone who joined us for our 12th consecutive Protospiel Online weekend! We had a great time completing 136 playtest sessions with attendees from 11 countries and raised $232.43 for our featured charities.🎉
Post-event Giveaway Livestream Saturday May 13 @ 3pm EDT
Join us as we spin the Wheel of Names to find out which Protospiel Online May 2023 meta gamers will win one of 5 gift cards in the prize pool. Your Moderator Chris, from Flip the Table podcast, will serve as co-host and run some quick game rounds help give away 3 extra prizes for live viewers!
​
That's it for now. Stay tuned for more awesome events, community opportunities, and updates about games tested at Protospiel!
~Emily
​
P.S. If you have something you'd like to see featured in our Community Newsletter, you have 3 options -- either submit an official feature request, reply to this message, or post in the #🙌share-your-wins channel in the Protospiel Online Discord server to let us know the details. We'd love to celebrate you!
​