Hey Reader!
The SpielMas Celebration is About to Begin!
Protospiel Online alumni Greg Pool created the new holiday called SpielMas during the winter of 2020 to celebrate his love of gaming and connecting with friends and family through interactive play.
From the SpielMas website about page:
SpielMas (noun) [sh-peel`-məs]: a holiday festival celebrated by playing a tabletop game each night between December 26-31.
I've felt very drawn to the idea of a new holiday we can build fresh traditions around. I love that we can each make the celebration our own by choosing the games, people, and modes of play (online, in-person, etc) that work best for our lives and schedules during the winter holiday season.
For my part, I've decided to celebrate SpielMas by partnering with Greg to share 3 Ways to Celebrate including a community event to build a SpielMas display photo collage inside of the online board game café experience I've built called Board Game Bistro. There's also a printable/fillable schedule Bistro members can use to plan the games, players, and times for their 6 days of SpielMas.
Board Game Bistro is a ✨brand new✨ FREE online community where tabletop game players, designers, and industry workers who want to engage with online board game play can find each other, arrange online play sessions, and chat about the board game hobby and industry.
Or, you know, just join the free community for a fun and safe place to share your love of board games with friends new and old.
If you decide to join the festival, Greg and I would love to see see your SpielMas 2022 photo shares inside in this new, private community away from all the distractions of the algorithms, ads, and drama bogging down traditional social media.
Emotional Intelligence Now on Kickstarter!
Julie Chen brought Emotional Intelligence to Protospiel Online in August of 2022, and it generated a lot of buzz both inside and outside of the Protospiel Online Discord server. The theme had a lot of our community members excited to help playtest it.
Here's a look at an early version of the game's development: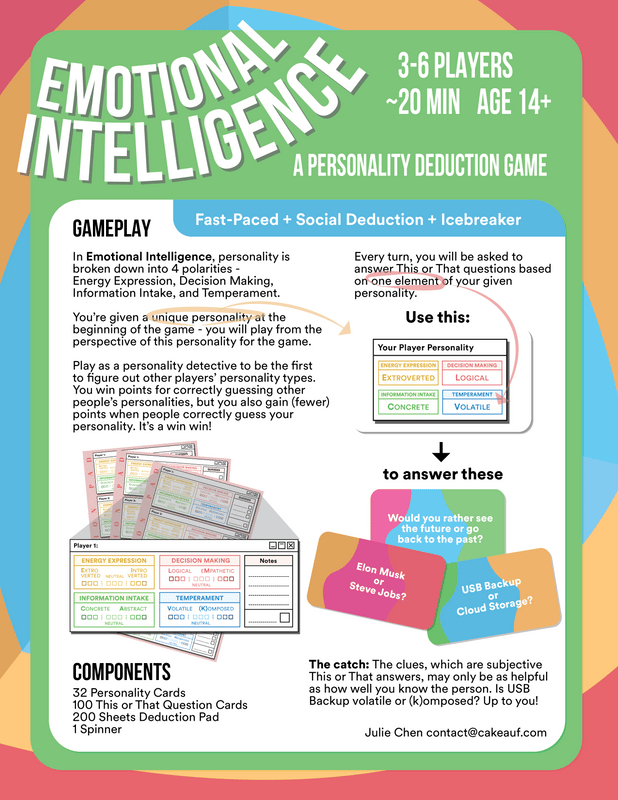 The Emotional Intelligence Kickstarter Campaign, created by Julie Chen, passed its $7,000 funding goal and remains open to new backers through Sunday, January 1, 2023 10:30 AM EST.
Whether you think this is the kind of game for you or not, I highly encourage you to check out how Julie and team have built the Kickstarter page. It's very engaging, informative, and has a good collection of reviews to help promote the game. Congrats to all involved! 🎉🥳🎉
Upcoming Protospiel Events
Did you know you can see a list of all upcoming events in the Protospiel network by visiting Protospiel.Events? If you take a look at the list there, you'll see both Protospiel Online and Protospiel Minnesota are coming up in the next 30 days.
I encourage you to look at each of the events in this Protospiel listing to check their Covid safety protocols, dates, and locations to find events that fit with your location, budget, and lifestyle.
​
Early Bird pricing for Protospiel Online January 2023 is available through Monday January 2, 2023 @ midnight EST. We're looking forward to gathering together again for a weekend of online playtesting Jan 13-15!
​
That's all for this week! Here's wishing you a very happy holiday season and lots of wins to share throughout 2023.
~Heather
P.S. If you have something you'd like to see featured in our Community Newsletter, you have 2 options -- either reply to this message or post in the new #🙌share-your-wins channel in the Protospiel Online Discord server to let us know the details. We'd love to celebrate you!
​
Thank You to our Sponsors